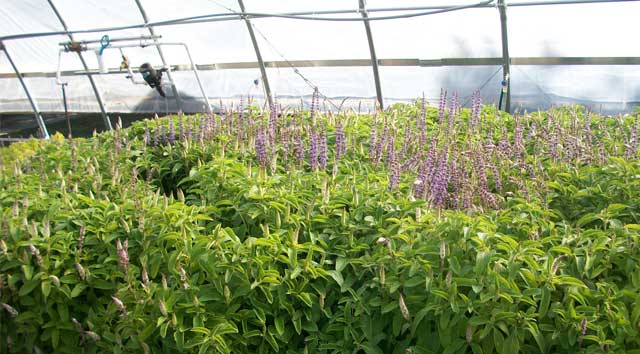 PhytoPharmacon, Inc (PPI) is a natural botanical product library and ingredient company, founded in 2005, with principal offices, greenhouses and laboratories located in Garner, NC. PhytoPharmacon specializes in high throughput screening, lab and pilot scale processing, and full-scale supply of natural products for the food, nutraceutical, cosmetic, and pharmaceutical research and industries. Focused on value added ingredients not widely available, the company has invested nearly a decade in assembling a truly unique natural product library of more than 25,000 refined ingredients compounds and extracts. This allows PhytoPharmacon to provide such services to customers as high throughput screening, development of highly efficient extraction processes, and scale up of agronomy and extraction capabilities for these products.
PPI maintains the germplasm for each plant that we provide in our natural product library. Eighty five percent of which is maintained in seed form, and the others are potted in small quantities in our twenty thousand square foot greenhouse facility. Ninety five percent of our plant collection can be grown in North Carolina. The company has a network of NC farmers that grow and harvest each plant based on our agronomy (standard operation procedure for each crop). Our staff has the capability to develop unique processes for each product resulting in lower processing costs and higher profitability for customers. We are a vertically integrated, one-stop shop for discovery, development, and supply of novel natural botanical ingredients.
Ven Subbiah, Ph. D. Founder/President: Dr. Subbiah is Founder/President of PhytoPharmacon (PPI). He worked as Principal Investigator at RJ Reynolds and was Senior Research Scientist at OSI Pharmaceuticals, Uniondale, NY, USA. He was responsible for establishing natural products chemistry laboratory and processing at RJ Reynolds, OSI Pharma and PPI. Before joining the industry Dr. Subbiah has done two post-doctoral work in Japan (Matsumae International Foundation) and at NC State University (Ciba-Geigy Fellow). Dr. Subbiah is an Adjunct Professor at NC State University, Raleigh and ECU, Greenville, NC. He has published over 80 publications in peer- reviewed journals, holds 13 issued patents, and 22 patents pending. As president of PPI, Dr. Subbiah is responsible for the short- and long-term profitability and growth of the company. He is responsible for planning and directing all aspects of an organization's policies, objectives, and initiatives. He is responsible for the long-range direction of PPI's science and technology research and discovery program for natural product ingredients. He is also responsible to maintain US and international scientific and technology standards, while also ensuring compliance with PPI's established standards and policies.
Inderjit K. Dev, Ph. D. is co-founder and Vice President of R&D of PhytoPharmacon. He received his Ph. D. from UNC, Chapel Hill. Dr. Dev has more than 35 years of experience in pharmaceutical drug discovery in the areas of anticancer, antimicrobial and antiviral agents with GlaxoSmithKline. He was involved in the discovery and development of several new products in these areas including Tykerb for metastatic breast cancer, Septra for urinary tract infections, Armala an angiogenesis inhibitor for colorectal cancer, GSK69603 an AKT kinase inhibitor for cancer, GW1843 for colorectal cancer and Totrombopag for thrombocytopenia. He has 65 peer-reviewed publications and holds 13 issued and pending patents. Dr. Dev is a member of PPI's board of directors, and has the responsibility of being familiar with all the responsibilities of the President. He must be ready to assume the presidents duties in his absence. His day to day duties are to assist the President in developing PPI's agendas and scientific technology programs.
Ron J. Harding, CEO, is an experienced business executive who began his carrer as a chemical engineer. He progressed through various roles including in operational and marketing management. Ron also spent time living and working in Germany as General Manager of a drug and cosmectic chemicals business. In 1997 he became President of Bespak, Inc., a drug delivery technologies business involved in the development and manufacture of pulmonary delivery devices for insulin and biotech drugs. After Bespak, he became President of Mallinckrodt Baker, a $450 million global specialty chemical company, leading the company through a major transition from a declining lab and research chemicals business, to become a major player in pharmaceutical ingredients and microelectronic materials. In 2013 Ron became CEO of PhytoPharmacon and began preparing it for scale up of its initial natural ingredient.